PopuPiano Campaign Page 220822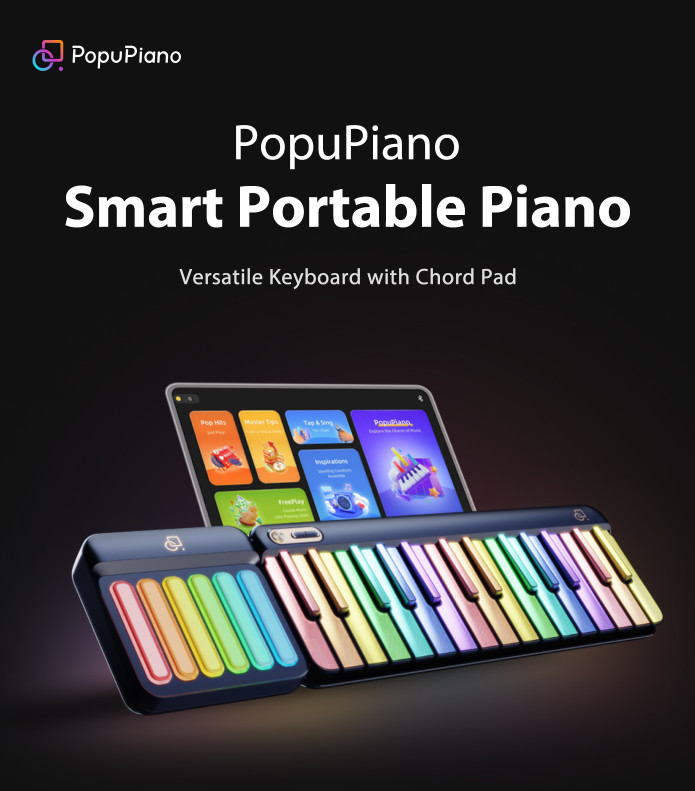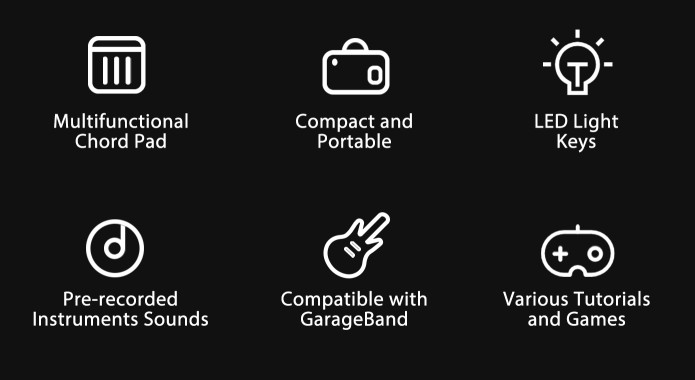 Take the fast lane to music mastery with PopuPiano – the all-in-one keyboard that will glow-up your skills, your studio, and every note you play.
PopuPiano packs melody, chords, and rhythm into a smart LED Keyboard and a powerful Chord Pad that takes you from novice player to pro track maker using a fresh approach to learning. Come level up your musical journey with PopuPiano.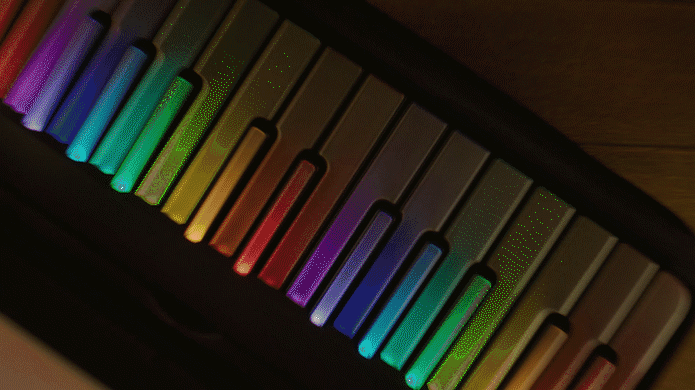 Come and check out the review video from YouTuber@Expresión Musical TV, @The Groovy Guitar Dude. You'll be amazed by the PopuPiano's amazing chords and smart features! Feel free to check out more reviews about PopuPiano at the bottom of the campaign page.


Are you a fan of music? Do you find learning traditional piano hard to start, especially learning how to read musical notation? Do you wish to have a piano that you can play anytime anywhere? Do you want a more affordable piano to start your music journey?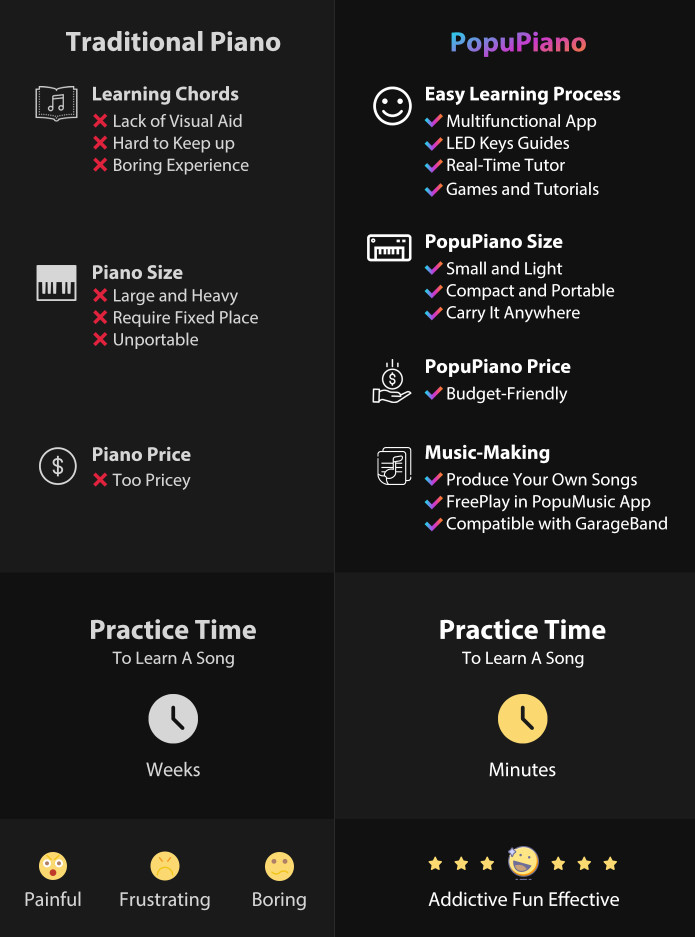 If so, PopuPiano Smart Portable Piano can meet all your needs. The era of the traditional piano is changing, and now, it is time to embrace smart keyboards. PopuPiano provides you with a fast lane to music learning and piano playing.

A Chord Pad that lets you play 100+ chords and instruments in a tap. A smart LED keyboard that makes learning chords and playing your favorite songs a breeze.
PopuPiano brings them together for the first time ever, for a piano that's as powerful for learners as it is for pros.

LED light keys would light up as interactive fingering guides and get you on the fast lane of learning the keyboard.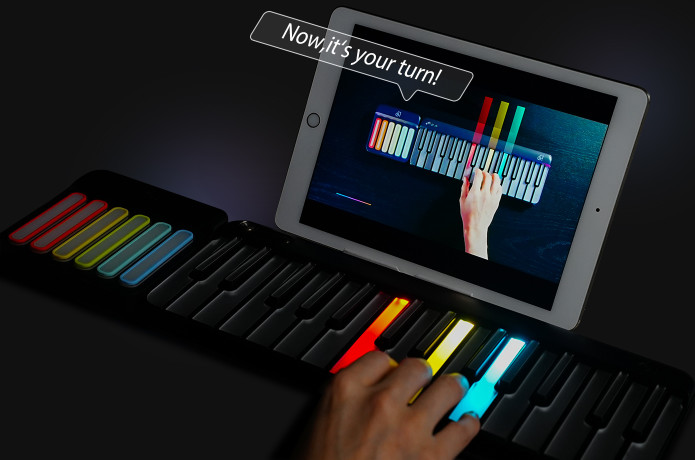 PopuPiano trades schoolbooks and rigid schedules for a fresh approach, with game style lessons that get you tapping through levels and glowing up your skills every time you play.
Practice wide library of mainstream hits, tutorials, and finger guides – with simple instructions for beginners and advanced lessons for pros. In Master Tips, you'll even find tutorials for producing and composing. It's all designed to keep you having fun, building skills, and falling in love with the music.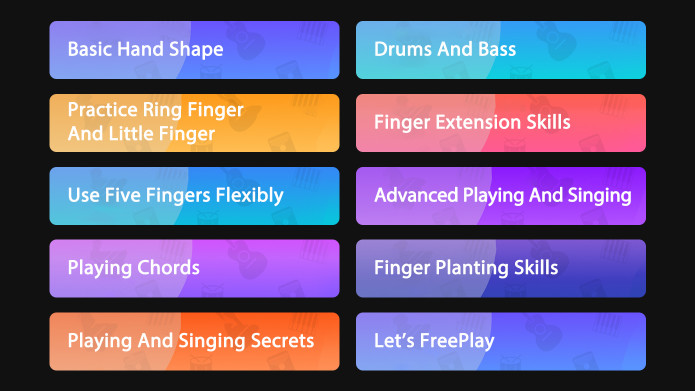 Music games of different styles to help you practice.
Learning the keyboard doesn't have to be boring anymore. Watch as the notes fly down your screen, hit the right keys before they disappear, and build your score while building real piano skills.

Light up music style of the world with PopuPiano, complicated music theory can be seen at a glance.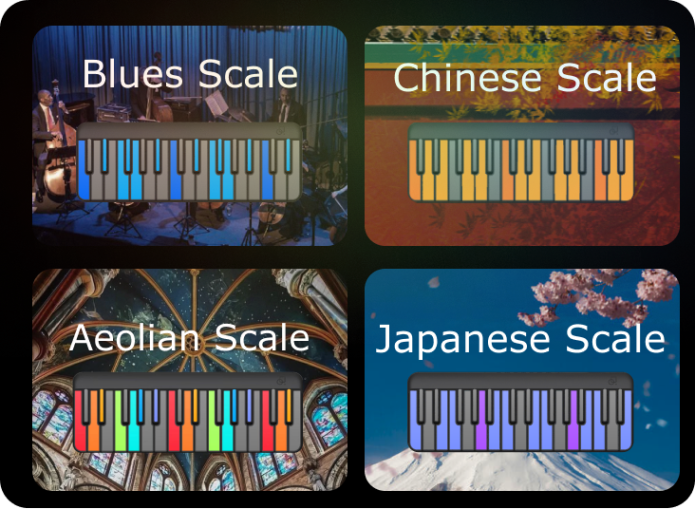 There is always a special song in your playlist that means the whole world to you. The Chord Pad allows you to play the keyboard with only one tap. You will be able to play the accompaniment of your favorite songs and start your live show simply by following the lessons.

Tons of trendy pop songs are waiting for you in the library, with 5 to 10 more songs added every month. Whatever genre you like, you can find your jam to sing and play to.

Play what you like. Sing what you love. Share it with everyone.
Combine singing and playing to build studio quality songs with PopuPiano — then share them anywhere with just a click.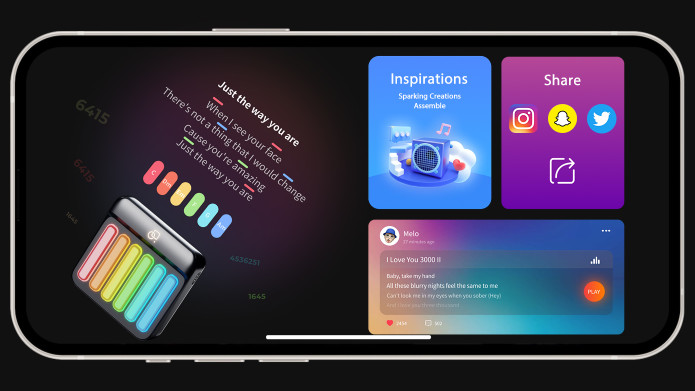 Music is not that mysterious – it's just the combination of layers of sounds. Play a piano, riff a bass guitar, and drop in a kick drum – all from one keyboard. FreePlay on the PopuMusic app puts a whole studio at your fingertips, with scales, chords, and a whole library of instruments under your control.
Check out the demo video of the whole composing process with the FreePlay and play freely.

The Chord Pad simplifies all the chords you need into one pad. And the Keyboard is packed with 100+ instruments, so you can program it to play the sounds that suit your specific style.

Creating and composing your own songs feels easy and fluid on PopuPiano. It pairs seamlessly with programs like Logic and Garageband, giving you endless room to build as you grow from novice player to pro producer.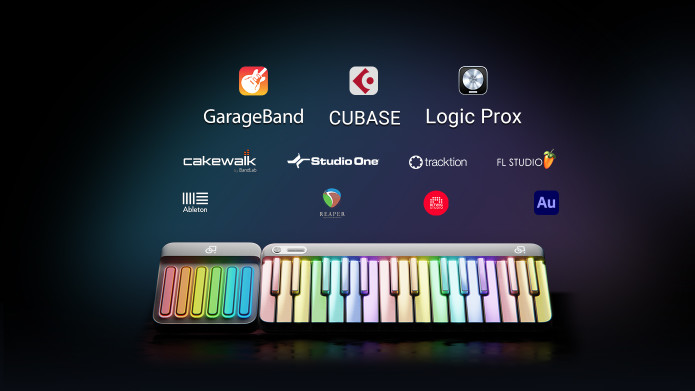 Add the PopuPiano to your studio, or build a new studio around it, and make tracks that sound like magic with far less equipment.


The main course line, FreePlay composing section, Tap & Sing, Inspirations from other musicians, Master Tips, Song Library...... Surprisingly, you may find everything you need along the music journey in PopuMusic APP.
No subscription fee for the tutorials and games in the app, including all the content. Also, it's free to download both on IOS and Android.

The stylish and simple design gives PopuPiano a classic look. Small in size and light in weight, you can take PopuPiano with you anytime, anywhere.
Worried about the octaves? Simply higher or lower the octave by pressing the button on top to get 7 octaves. The plexiglass acrylic keys are even smoother than traditional keyboards. Your learning experience will definitely improve.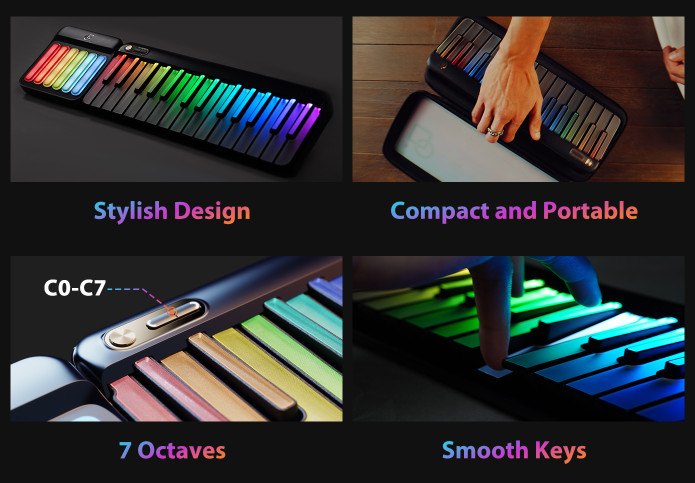 Play in style. Travel in fashion. Shine from the inside out with the PopuPiano carrying case.
Slide your PopuPiano keyboard and Chord Pad into the acrylic carrying case and keep your music machine looking and sounding new.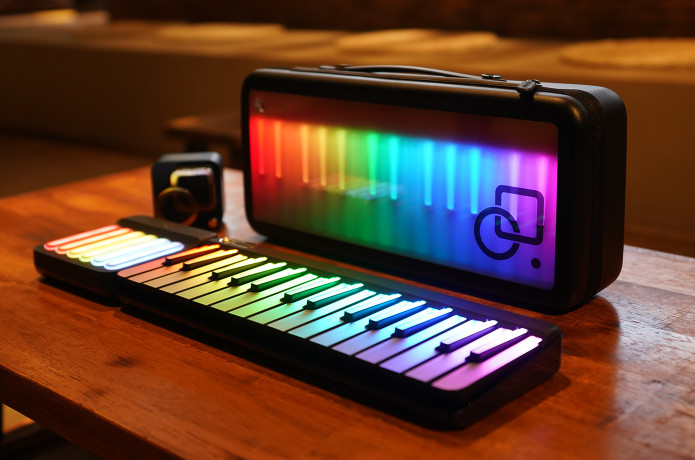 Play wider and longer, by adding extra keyboards to your PopuPiano. It features a unique magnetic design that lets you double the keyboard while doubling your creativity. It functions as an accompaniment part in both the coursing sections and gaming sections.

The PopuPiano comes in two bold and classic colors — the glowing black and the sparkling white, both set a perfect backdrop for PopuPiano's LED keys to light up any space.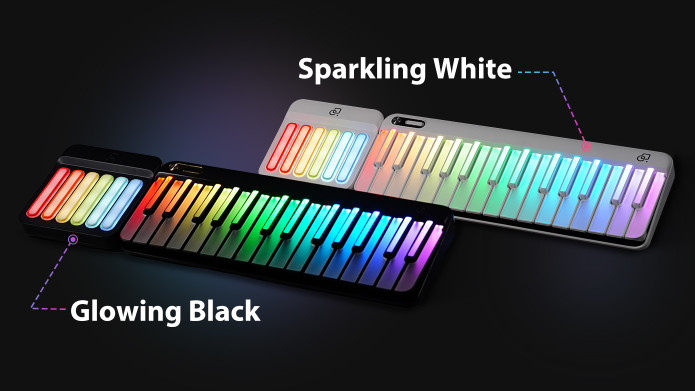 You can choose the perk with the extra accessories on the page. Or you can grab the add-ons on the check-out page after you choose the perk. Please note that the left-handed keyboard will be shipped out separately later in December 2022.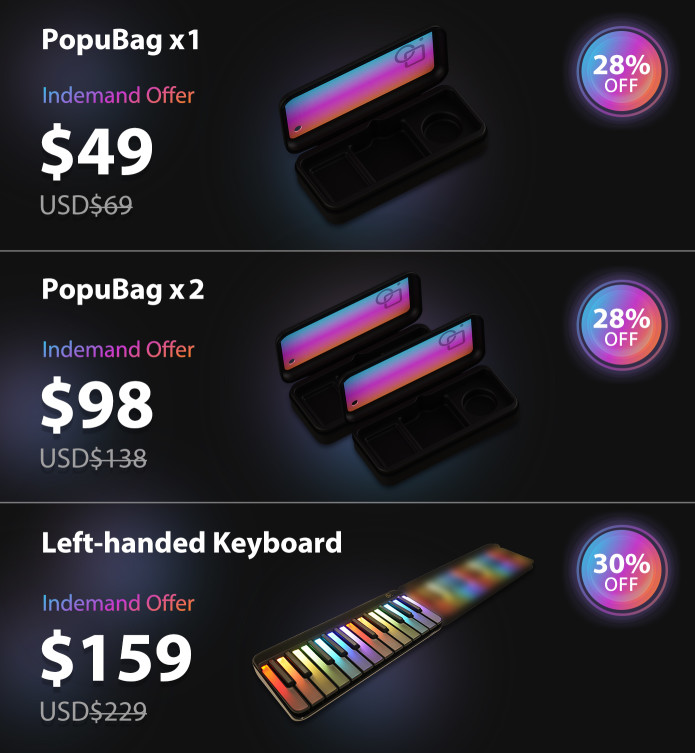 Just choose the perk you need, then you will be able to choose the preferred color for each unit before checking out.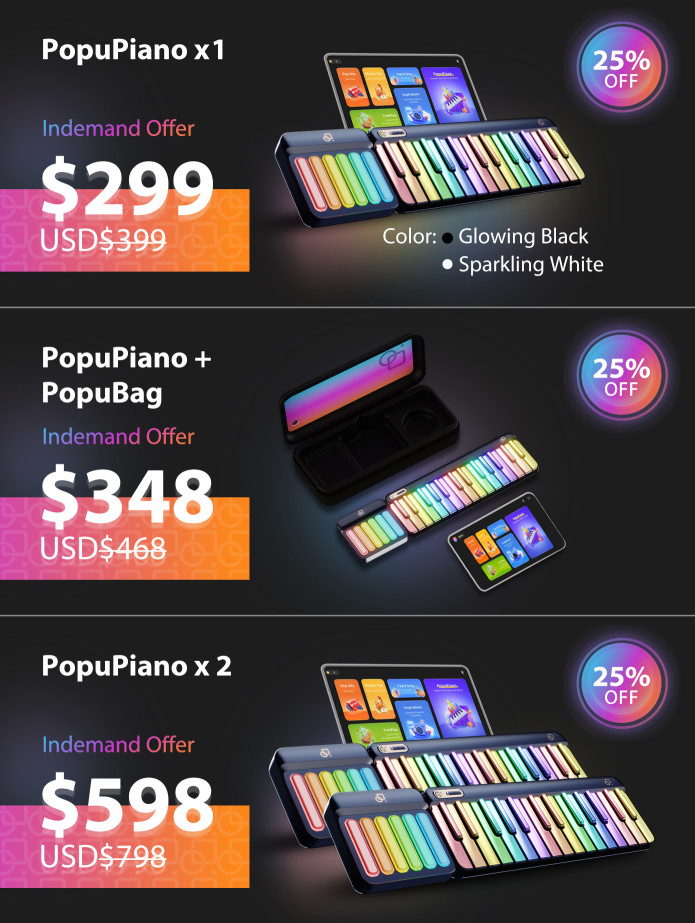 We, the PopuMusic team, are dedicated to building a bridge to connect human visual instinct and music understanding.
You might imagine that we are a team of programmers, engineers or music idealists, but that is not who we are. We are just ordinary people like you, and the biggest common we have is that we all love life. We firmly believe that life will be a little more awesome with some music, and a lot more awesome if the music can be made by anyone.
To make this goal into reality, for the past few years, we have already launched Poputar, Populele 1 and Populele 2 on Indiegogo, supporting thousands of happy users to chase their music dreams. This year 2022, we finally bring the PopuPiano to the world. In our eyes, this is the best of the bests.
We wish that you can find the pure joy, sensation and comfort from music on PopuPiano and all our beautiful products, just like we do.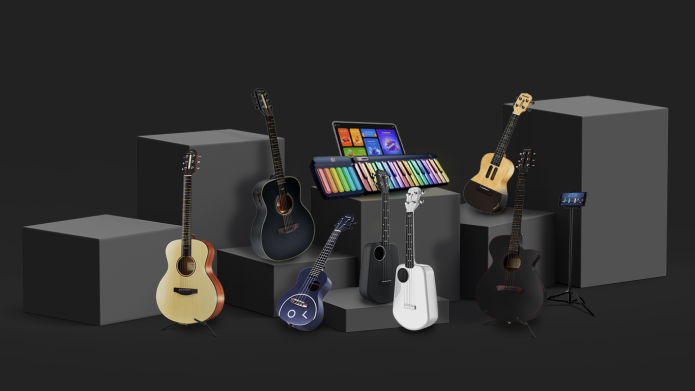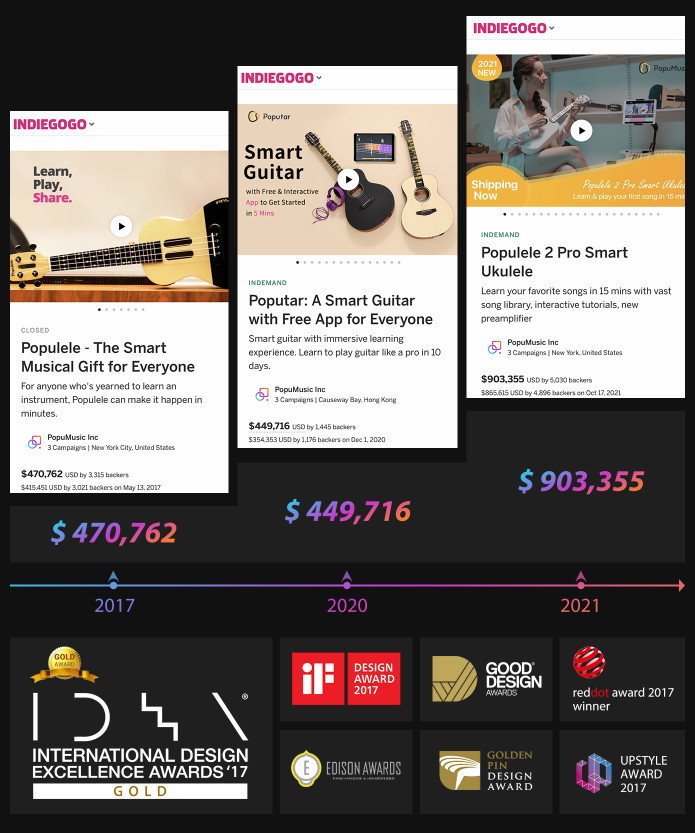 According to the Indiegogo's verification, we've entered the mass production stage and are planning to start shipping in June 2022. We will keep you updated about the shipping status in the update section.