Think of it as Guitar Hero but for a real ukulele.
Patented Music Recognition
In order to effectively learn something, you must receive accurate feedback. The Populele 2 Pro Smart Ukulele app has patented technology that accurately records your playing and matches that to the expected sound. It does this with a unique algorithm that removes unwanted noise, calculates the lag from the ukulele to the phone, and then determines the accuracy of the play.
This, alongside the built-in LEDs, are two excellent features that truly make this an exceptionally good instrument to learn on.
Rich Tonal Design
The Populele 2 Pro Smart Ukulele is crafted into an acoustically-vibrant form using premium materials, from the body to the strings. This ukulele opted for a larger vibration space, some 30% larger than traditional ukuleles which result in a wider area for each note to vibrate on.
The broader vibration space, in combination with PVDF carbon fiber strings, results in warm and rich tones
Durable and Well-Built
The material choice doesn't just create beautiful sounds, they also create a durable ukulele that functions just as well in the cold as it does in a humid climate. This is thanks to the carbon fiber composite material.
Populele 2 Pro Smart Ukulele Specs
| | |
| --- | --- |
| Model | Populele 2 Pro |
| Product Size | 23 inches (610mm x 210mm x 70.8mm) |
| Net Weight | 800g |
| Fret LEDs | 56 |
| Material | Carbon Fiber Reinforced SAN Composite |
| Strings | Fluoro Carbon Strings |
| Fretboard Material | ABS |
| Tunning Gears | Sealed Die-cast |
| Nut/Saddle | Cattle Bone |
| Bridge | HPL Synthetic Fiber |
| Wireless Connection | Bluetooth 5.0 BLE |
| Power Supply | 2*1.5V AAA Dry Batteries |
| Preamplifier | PopuBoost Preamplifier |
| Applicable Standards | Q/SGWH 004-2018 |
Design and Build
The Populele 2 Pro Smart Ukulele has a very satisfying and clean silhouette that looks modern while still retaining the traditional proportions we expect. There are four different colour options, Midnight Black, Snow White, Mint Green, and Light Pink, each of which adds a lot of personality.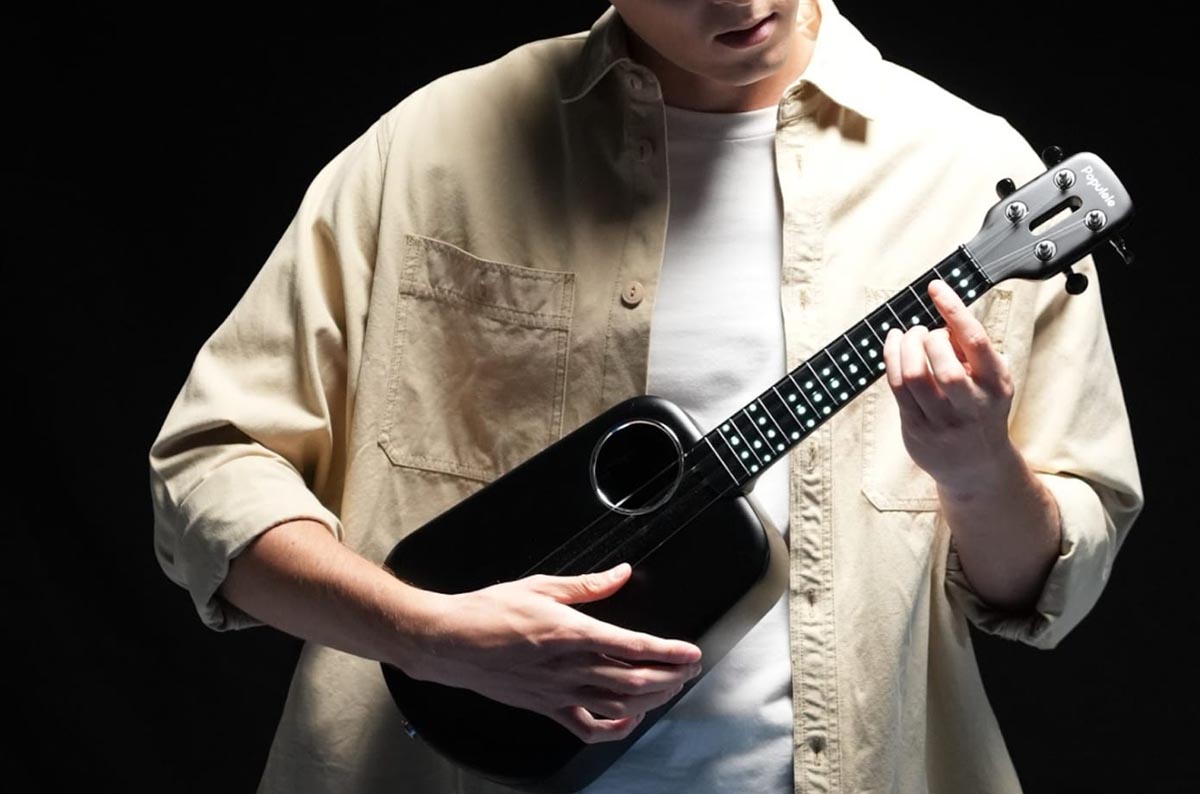 The material choice is excellent and results in a durable, resistant, and lightweight instrument that can certainly endure more than a traditional ukulele.
The Verdict
The Populele 2 Pro Smart Ukulele is no doubt a quality smart instrument that can accelerate the rate of learning the ukulele, and also make it a more enjoyable process. There are some really cool features that set it apart. The built-in LEDs and patented app algorithm ensure accurate learning and feedback that cannot be replicated on a traditional ukulele, without paying for a tutor.
In addition to the very useful educational features, the ukulele still holds its own just as a ukulele – it sounds good, is very portable, and looks the part too.
Overall, it is very easy to recommend this to anyone who has an interest in learning the ukulele. It's fairly priced, sounds good, and can teach you a thing or two as well!
Make sure to check out the Indiegogo campaign by clicking the link